Opportunities for Grant Funding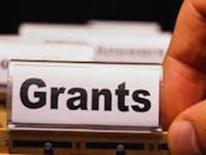 This page will contain current grant funding opportunities associated with the Justice Grant Administration, when they are available. Each year, JGA posts Requests for Applications (RFAs) for funding in the coming fiscal year. Each RFA is a separate funding initiative with specific eligibility criteria, required initiative components, preferred project elements and concrete outputs and outcomes. Eligible applicants should carefully review the requirements of each RFA as all proposals will be evaluated by JGA and independent review panelists based upon how reflective they are of these requirements and the thoughtful, detailed plan presented to accomplish the identified outcomes. Please consult our annual Grant Cycle overview for information on when funding announcements and awards are made.
There are no grant funding opportunities available at this time.
Office Hours:
Monday - Friday, 9 am to 5 pm
Service Location:
GIS Address:
1350 Pennsylvania Avenue, NW